With its two volcanos summit high of 4 000 m, Big Island offers a double face full of contrasts and colors for tourists who wish to discover Hawaii instead of just lying on a beautiful white sand beach …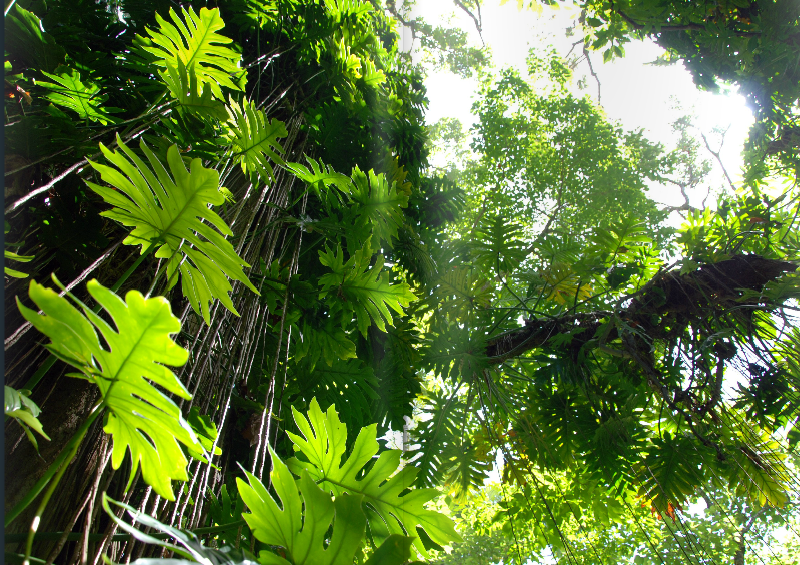 You will reach Hawaii by the Honolulu airport, main entrance and favorite way out of this archipelago whose mere mention makes eyes sparkle.  Aloha! Sounds like a name on a postal card, with the postal card landscape. In fact, a postal card, simply! However, you will only stay there for a few hours. Not happy? Well … In this case I allow you to take a little break at Waikiki Beach, in order to flirt with a taste of paradise, hoping that the presence of the towers-hotels on the beach will not alter your pleasure. Pearl Harbor's visit, boat trip, surf session, paddle, stroll in a bark, shopping, and some more! You'll have so much choice to spend your days. Because honestly, clear and turquoise water, sun and coconuts, this is so overrated! You could find that everywhere else! However, a still active volcano, a summit where you can hug stars and tropical forests … All these things in only one place, this is already much more rare!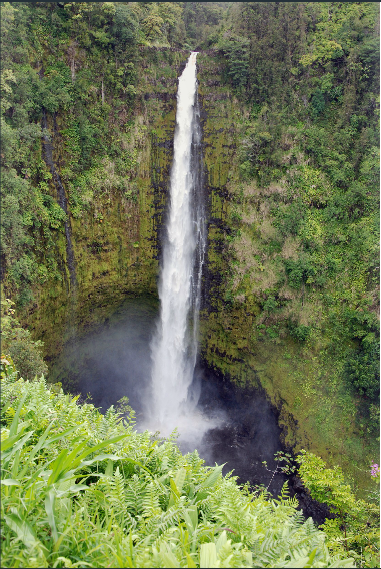 Big Island here we are!
Back to Honolulu's airport for your domestic's flights – you can only jump from island to island with small airplanes, boats are only reserved for cruises and tour operator. Let's go to Hilo, on the North-West coast of Big Island, also called Hawaii. As its name suggests it, this is, by far, the largest island of the archipelago which counts 137, distributed over a backbone out of water, consequences of a deep and intense volcano activity at the origin of its existence. Thus Big Island, Oahu (that you just left), Mauai, Kahoolawe, Lanai, Molokai, Niihau – best known – are the emerged parts of huge basaltic volcanoes.    
During this short flight, with a bit of luck, you will be window side and could observe this unique island. Instantly a detail will jump at you: the island seems literally cut in half. Aridity, blackness and desolation on the West side, luxuriance, greenery and humidity on the East side. And in the middle, not a river, but several curved peaks gripping the clouds like a Velcro strip.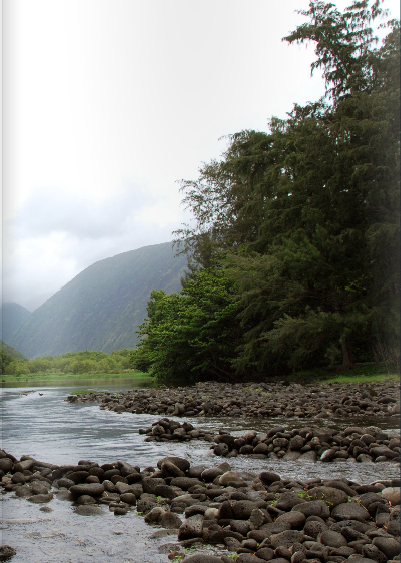 « Beyond confines of starry spheres »
Among them, central and imperial, Mauna Kea, the highest point of the island. A myth for amateurs of astronomy and starry nights. Perched over 4 200 meters, swept by winds able to mess up hair of a bald, this volcano almost extinct, guarantee a breathtaking spectacle at nightfall.. It is not a coincidence if several international observatories are settled there. After having seen the sun bowing above the clouds and rubing along with the ridges of reddish cones surrounding, the layman is invited to go to the visitor center at Onizuka up to 2 800 m for a guided tour of the Milky Way, telescope included. Amazement guaranteed facing this magnificence and unusual celestial spectacle for us who hardly see the Moon, drowned in the luminous pollution of our cities too illuminated.
The green Island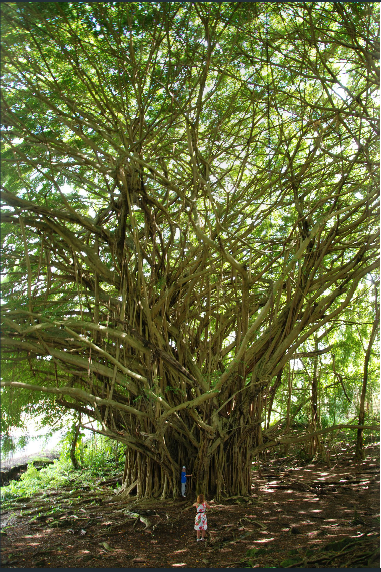 The Mauna Kea (snowing in winter and offering to the most audacious the possibility to go skiing) is using as an invisible border on the island, between the green island and the black island. A kind of dam where the clouds carried by permanent trade winds from North, cling. At 15 kilometers away from either side of the summit, the rainfall varies between 360 and 5000 mm per year! The colors go from a palette of black, gray and yellow to ubiquitous green. The Eastern side is exposed to updrafts: ragged contours, restless ocean, regular rainfall enough to generate tropical forests, deep valleys and high waterfalls …
One example among many: the impressive Waipi'o Valley, northeast of the island, is a steep-sided valley that looks like a giant amphitheater whose walls, almost vertical, reach 600 meters high and are covered with 50 shades of green valley. Diluvian rains flows into waterfalls which rush down and flow, in their turn, into a river that pours into a bay greatly prized by surfers. We reach green spaces by a winding and steep road (over 25% in places) to do on foot or by 4×4. Once arrived down, opt for the right side will lead you to the ocean and one of the largest black sand beaches of the island while choose the left, land side, will take you on a greenery sea made of plants, flowers, sprawling native trees and other crops of taro. A lush vegetation will accompany you till Hilo, the rainiest city in the United States …
The black island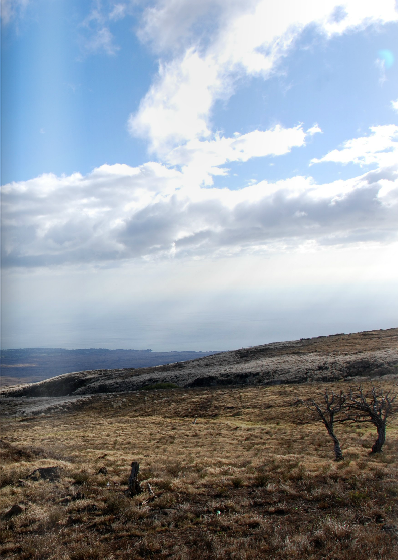 On the other side of Mauna Kea spreads a façade which seems much more austere, gloomy, stony, mineral, and widely marked by eruptions of Mauna Loa and Kilauea , even if this occidental slope is less subject to winds and has the most clement climate. This is also on this side that you'll find the most beautiful beaches of Big island surrounded by black basaltic rocks which contrast with turquoise-blue of a really very attractive water. With its weak slopes, Mauna Loa – long mountain in Hawaiian – is a piling up of basaltic slides, hardly higher than Mauna Kea, which cover half of the island's area. 
If its last great eruption dates back to 1996, the Kilauea, has ejected lava and melted rocks in 2011 and 2012, and gave an exceptional show for amateurs of thrills… More soberly, visitors can cross the Kīlauea Iki, former lake of solidified lava formed after an eruption in the 1950s, and safely discover open cracks, cataclysmic elevations, gas emanations and scoria. Or, they can follow the successive lava flows towards the ocean which, blocks roads and progressively redraw the island's contours at each new explosion. You never been to the Moon? So, be happy the landscape you see looks like the Moon's one! But unlike the moon, on these volcanoes, the aftermath of a devastating lava, life slowly reasserts itself, ferns, bushes, flowers, successfully and with perseverance, come back to life, making their way through a territory as inhospitable as fascinating …