Chocolate maker since 1920 from father to son (and to daughter) for four generations, Girard Chocolatier treats people with its chocolate-flavoured, fruity sweets and its delicious sugar-coated almonds. Your UUU concierge went on site and takes you now for a gourmet stroll in the heart of Paris. 
A handmade and family house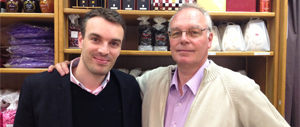 Located near the commercial hub that is the BHV, la Maison Girard is present in the French capital for four generations. Denis' great grand-father (current manager), who was at the origin of this family business. He was a sales representative traveler then manager with his wife in a delicatessen shop. It was after the war that the first boutique located in the 8th arrondissement moved to rue Vieille du Temple, before moving closer to the "vacuum" of the neighbourhood, the Bazar de l'Hôtel de Ville by opening in rue des Archives in 1954.
An unparalleled strategy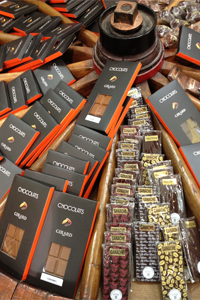 Since its opening, the shop never ceased to attract the onlookers as its window display overflows with rich and colourful sweets and chocolates – chocolate, sugar-coated almond, French fruit jelly (pur fruit), diamond-shaped sweets from Provence, candied chestnuts…
And to guarantee an excellent quality to its chocolates, la Maison Girard did not hesitate to become its own manufacturer and producer! So since 1968, la Maison Girard has its own manufactory workshop located rue de la Tâcherie. Under the direction of a chocolate maker chef, the workshop creates the Girard range which has replaced all other brands they sold before. The Girard range offers more than fifty different choices of chocolate and almost as much sugar-coated almonds.
A savoir-faire of yesteryear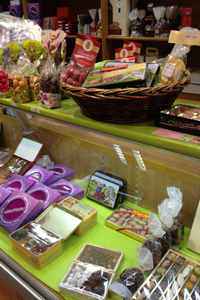 Made of pure cocoa butter selected among the best from Belgium, Girard chocolates are neither too sugary, nor too chocolate-flavoured, but refined and gourmet. "We must find the perfect balance between the chocolate force and the cocoa content […] to be able to detect what is the composition of a chocolate. Otherwise it has no interest," tells Mr. Girard. The savoir-faire of the house is the perfect control of the balance between flavours. "We make our pralines ourselves with 60% of hazelnuts or almonds and our ganache. "We try to establish a range of chocolates – about fifty – that we can easily distinguish from each others: hazelnut pralines, almonds, coffee flavour, gianduja (chocolate and hazelnut pastry), ganache, that is melting, lively, not sickly nor sugary."
As for sugar-coated almonds, second speciality of the house, they are made from Avola almonds, coming from a small village in Sicily, well-known for producing the best almonds in the world, and manufactured in a factory in Verdun, cradle of sugar-coated almond manufacture!
Mouth watering, you say? Do not wait any longer and hurry up rue des Archives to get a glimpse and a taste! And for the most chocoholic ones, your concierge books for you a private visit of the chocolate laboratory rue Tacherie, which opens its doors during the winter period. Contact your concierge and enjoy!