Avec ses deux sommets volcaniques culminant à plus de 4 000 mètres, Big Island offre un double visage haut en contrastes et couleurs aux visiteurs souhaitant découvrir Hawaii sous un autre prisme que le farniente et les plages de sable fin…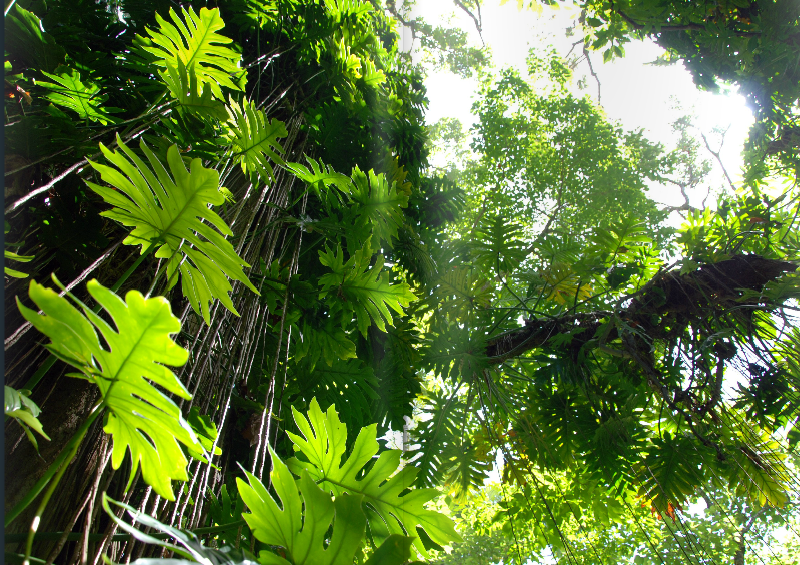 Vous atteindrez certainement Hawaii par l'aéroport d'Honolulu, porte d'entrée et de sortie privilégiée de cet archipel dont la seule évocation fait scintiller les mirettes. Aloha ! Nom de carte postale, ambiance de carte postale, carte postale tout court. Et pourtant, vous n'y passerez que quelques heures. Vous protestez ? Bon, très bien, je vous accorde une petite halte à Waikiki Beach, histoire de flirter avec une certaine image du paradis, en espérant que la présence, déconcertante, de tours-hôtels sur la plage même n'altèrera pas votre plaisir. Sortie en voilier, initiation au surf, paddle, barque, shopping, visite de Pearl Harbor et bien d'autres choses encore, vous aurez l'embarras du choix pour occuper vos journées. Mais honnêtement, l'eau translucide, la chaleur et les cocotiers, c'est surfait ! Vous pouvez trouver tout ça ailleurs. En revanche, un volcan toujours en activité, un sommet où côtoyer les étoiles, des forêts tropicales où se perdre, le tout dans une même unité de lieu, c'est déjà plus rare…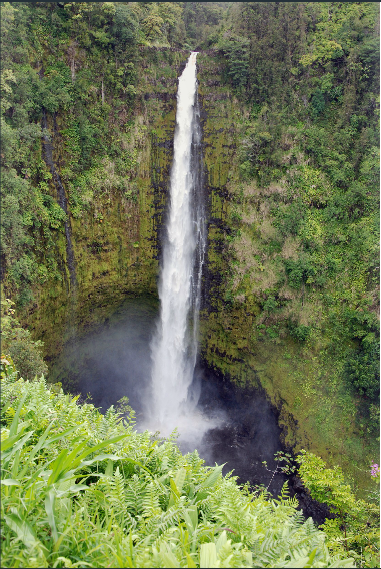 Big Island nous voilà !
Retour donc à l'aéroport d'Honolulu, côté vols intérieurs – vous ne pouvez en effet sauter d'île en île qu'en avion (petit), les bateaux étant réservés aux croisières organisées. Direction Hilo, sur la côte nord-est de Big Island, ou Grande Ile, appelée aussi Hawaii. Comme son nom l'indique, c'est, et de loin, la plus grande île de l'archipel qui en compte 137, distribuées sur une épine dorsale sortant de l'eau, stigmate de l'intense activité volcanique profonde à l'origine de son existence. Ainsi Big Island, Oahu (que vous venez de quitter), Mauai, Kahoolawe, Lanai, Kauai, Molokai, Niihau – les plus connues – sont-elles les parties émergées d'énormes volcans basaltiques.
Pendant ce court vol, avec un peu de chance, vous serez coté hublot et pourrez donc faire connaissance avec cette île singulière. Quelque chose vous sautera instantanément aux yeux : l'île paraît littéralement coupée en deux. Aridité, noirceur et désolation côté ouest, luxuriance, verdure et humidité côté est. Et au milieu, non pas une rivière, mais plusieurs sommets bombés agrippant les nuages comme une bande Velcro.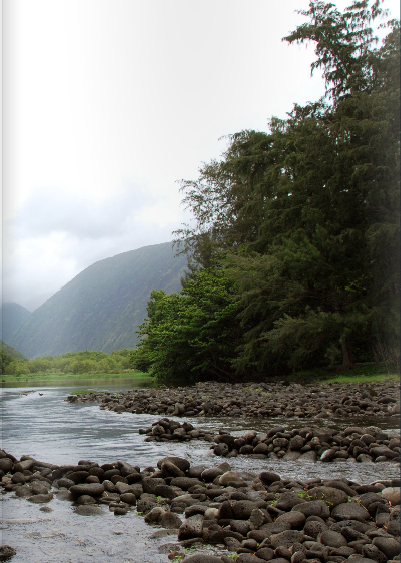 « Par-delà les confins des sphères étoilées »
Parmi eux, central et impérial, le Mauna Kea, point culminant de l'île. Un mythe pour les amateurs d'astronomie et de nuits étoilées. Perché à plus de 4 200 mètres d'altitude, balayé par des vents à décoiffer un chauve, ce volcan bouclier éteint quasi désertique figure parmi les endroits au monde où le ciel est le plus pur, garantie d'un spectacle à couper le souffle dès la tombée de la nuit. Ce n'est pas un hasard si plusieurs observatoires internationaux s'y sont installés. Après avoir été autorisé à admirer la révérence du soleil au dessus des nuages et à vous frotter aux crêtes des cônes rougeâtres alentours, le profane est invité à descendre au visitor center d'Onizuka à 2 800 m pour une visite guidée de la Voie Lactée, télescope compris. Emerveillement certifié face à ce spectacle céleste sublime et inhabituel pour nous qui peinons parfois à voir la Lune, noyée dans la pollution lumineuse de nos cités trop éclairées. 
L'île verte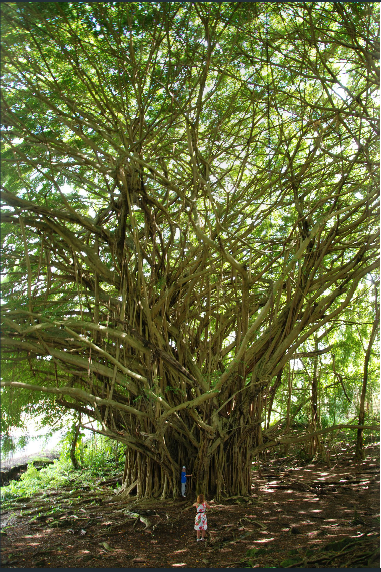 Le Mauna Kea, où il neige en hiver offrant ainsi aux plus téméraires la possibilité de skier, fait office de frontière invisible sur cette île bicéphale, entre île verte et île noire, une sorte de barrage où s'accrochent les nuages portés par les alizés permanents venant du nord. A 15 kilomètres de distance de part et d'autre de ce sommet, la pluviométrie oscille entre 360 et 5 000 millimètres par an ! Les couleurs passent d'une palette de gris noir jaune à un vert omniprésent. Face orientale exposée aux vents ascendants : contours déchiquetés, océan agité, pluies suffisamment régulières pour générer des forêts tropicales, vallées profondes et hautes chutes d'eau…
Un exemple parmi tant d'autres : l'impressionnante Waipi'o Valley au nord-est de l'île, vallée encaissée aux airs d'amphithéâtre géant dont les parois quasi verticales atteignent 600 mètres de haut et sont recouvertes d'un camaïeu de vert. Les cascades s'y précipitent à la faveur des pluies qui l'arrosent, alimentant une rivière qui se déverse dans une baie très prisée des surfeurs. On atteint le tapis vert par une route sinueuse très pentue (plus de 25% par endroits) à pied ou en 4×4. Arrivés en bas, opter pour la droite vous conduira à l'océan et à l'une des plus grandes plages de sable noir de l'île tandis que choisir la voie de gauche, côté terre, vous entraînera dans un océan de verdure fait de plantes, de fleurs, d'arbres endémiques tentaculaires et autres cultures de taro. Une végétation luxuriante qui vous accompagnera jusqu'à Hilo, la ville la plus pluvieuse des Etats-Unis…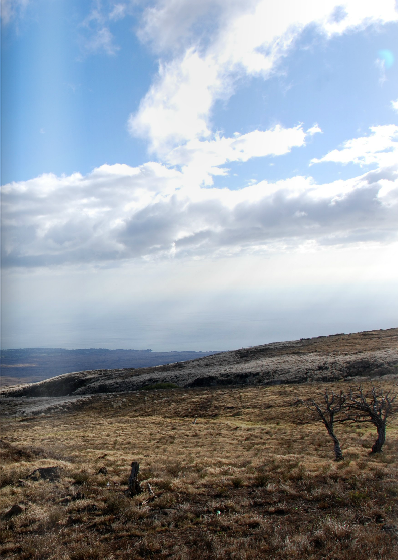 L'île noire
De l'autre côté du Mauna Kea se déploie un visage d'apparence beaucoup plus austère, sombre, rocailleux, minéral, largement marqué par les éruptions du Mauna Loa et du Kīlauea, même si c'est aussi sur ce versant occidental moins soumis au vent que le climat est le plus clément et où se trouvent les plus belles plages de Big Island cernées de roches basaltiques noires venant contraster avec le bleu turquoise d'une eau plus que séduisante. Avec ses pentes faibles, le Mauna Loa – longue montagne en hawaïen – est un empilement de coulées basaltiques à peine moins haut que le Mauna Kea et recouvre la moitié de la superficie de l'île !
Si sa dernière manifestation d'envergure remonte à 1996, le Kīlauea, lui, a craché jets de lave et roche fondue en 2011 et 2012, un spectacle exceptionnel pour les amateurs de sensations fortes… Plus sobrement, le visiteur pourra traverser le Kīlauea Iki, ancien lac de lave solidifiée après une éruption dans les années 1950, et découvrir fissures ouvertes, soulèvements cataclysmiques, fumerolles et scories en toute sécurité ou bien, se diriger vers l'océan pour suivre le chemin emprunté par les coulées de lave successives, barrant les routes sans complexe et redessinant progressivement les contours de l'île à chaque nouvelle explosion. Si vous n'êtes jamais allés sur la Lune, dites vous que cela ressemble un peu à cela…Mais contrairement à notre satellite, sur ces volcans, après le passage d'une lave dévastatrice, la vie reprend peu à peu ses droits, fougères, arbustes, fleurs réussissant, à force de persévérance, à se frayer leur chemin dans un territoire aussi inhospitalier que fascinant…
With its two volcanos summit high of 4 000 m, Big Island offers a double face full of contrasts and colors for tourists who wish to discover Hawaii instead of just lying on a beautiful white sand beach …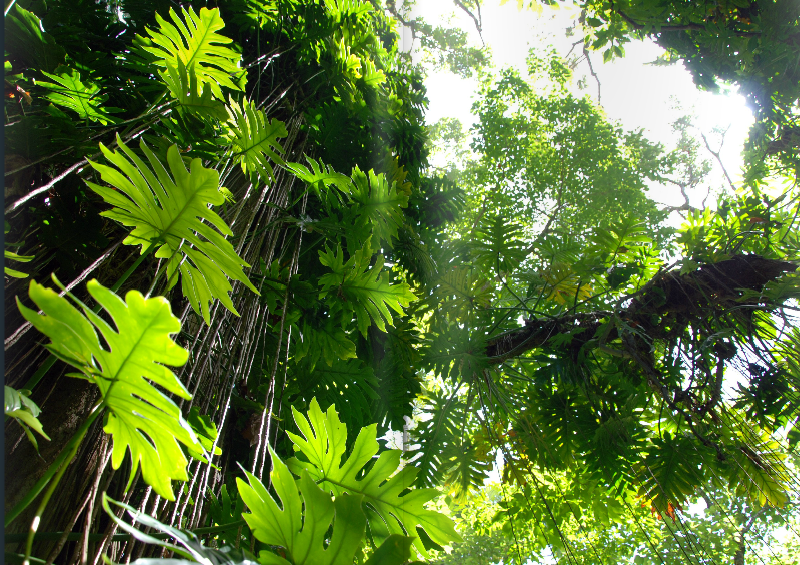 You will reach Hawaii by the Honolulu airport, main entrance and favorite way out of this archipelago whose mere mention makes eyes sparkle.  Aloha! Sounds like a name on a postal card, with the postal card landscape. In fact, a postal card, simply! However, you will only stay there for a few hours. Not happy? Well … In this case I allow you to take a little break at Waikiki Beach, in order to flirt with a taste of paradise, hoping that the presence of the towers-hotels on the beach will not alter your pleasure. Pearl Harbor's visit, boat trip, surf session, paddle, stroll in a bark, shopping, and some more! You'll have so much choice to spend your days. Because honestly, clear and turquoise water, sun and coconuts, this is so overrated! You could find that everywhere else! However, a still active volcano, a summit where you can hug stars and tropical forests … All these things in only one place, this is already much more rare!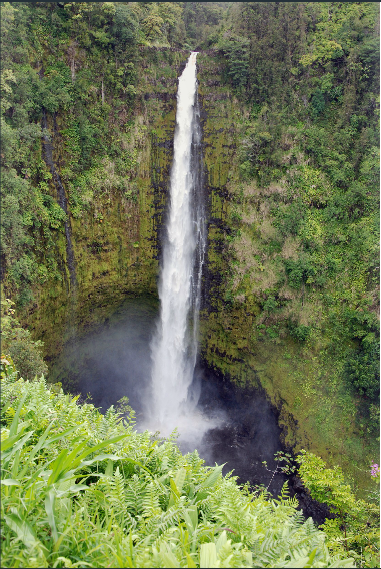 Big Island here we are!
Back to Honolulu's airport for your domestic's flights – you can only jump from island to island with small airplanes, boats are only reserved for cruises and tour operator. Let's go to Hilo, on the North-West coast of Big Island, also called Hawaii. As its name suggests it, this is, by far, the largest island of the archipelago which counts 137, distributed over a backbone out of water, consequences of a deep and intense volcano activity at the origin of its existence. Thus Big Island, Oahu (that you just left), Mauai, Kahoolawe, Lanai, Molokai, Niihau – best known – are the emerged parts of huge basaltic volcanoes.    
During this short flight, with a bit of luck, you will be window side and could observe this unique island. Instantly a detail will jump at you: the island seems literally cut in half. Aridity, blackness and desolation on the West side, luxuriance, greenery and humidity on the East side. And in the middle, not a river, but several curved peaks gripping the clouds like a Velcro strip.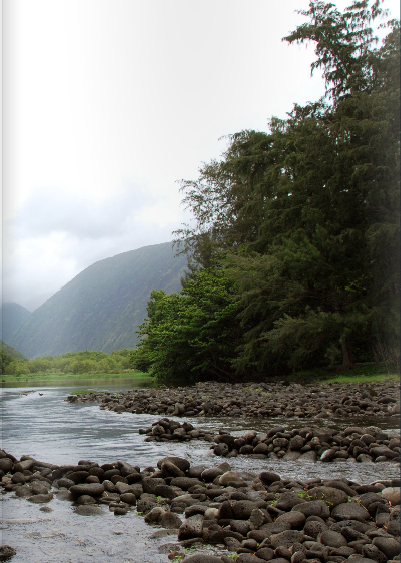 « Beyond confines of starry spheres »
Among them, central and imperial, Mauna Kea, the highest point of the island. A myth for amateurs of astronomy and starry nights. Perched over 4 200 meters, swept by winds able to mess up hair of a bald, this volcano almost extinct, guarantee a breathtaking spectacle at nightfall.. It is not a coincidence if several international observatories are settled there. After having seen the sun bowing above the clouds and rubing along with the ridges of reddish cones surrounding, the layman is invited to go to the visitor center at Onizuka up to 2 800 m for a guided tour of the Milky Way, telescope included. Amazement guaranteed facing this magnificence and unusual celestial spectacle for us who hardly see the Moon, drowned in the luminous pollution of our cities too illuminated.
The green Island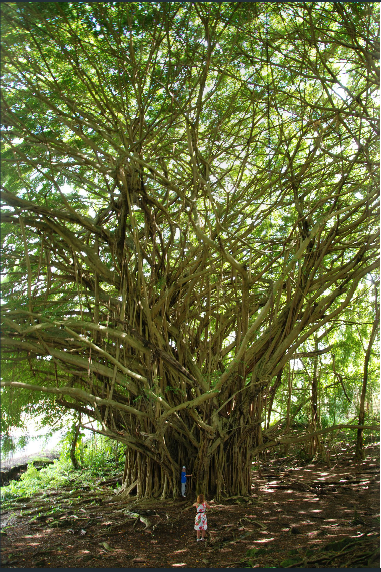 The Mauna Kea (snowing in winter and offering to the most audacious the possibility to go skiing) is using as an invisible border on the island, between the green island and the black island. A kind of dam where the clouds carried by permanent trade winds from North, cling. At 15 kilometers away from either side of the summit, the rainfall varies between 360 and 5000 mm per year! The colors go from a palette of black, gray and yellow to ubiquitous green. The Eastern side is exposed to updrafts: ragged contours, restless ocean, regular rainfall enough to generate tropical forests, deep valleys and high waterfalls …
One example among many: the impressive Waipi'o Valley, northeast of the island, is a steep-sided valley that looks like a giant amphitheater whose walls, almost vertical, reach 600 meters high and are covered with 50 shades of green valley. Diluvian rains flows into waterfalls which rush down and flow, in their turn, into a river that pours into a bay greatly prized by surfers. We reach green spaces by a winding and steep road (over 25% in places) to do on foot or by 4×4. Once arrived down, opt for the right side will lead you to the ocean and one of the largest black sand beaches of the island while choose the left, land side, will take you on a greenery sea made of plants, flowers, sprawling native trees and other crops of taro. A lush vegetation will accompany you till Hilo, the rainiest city in the United States …
The black island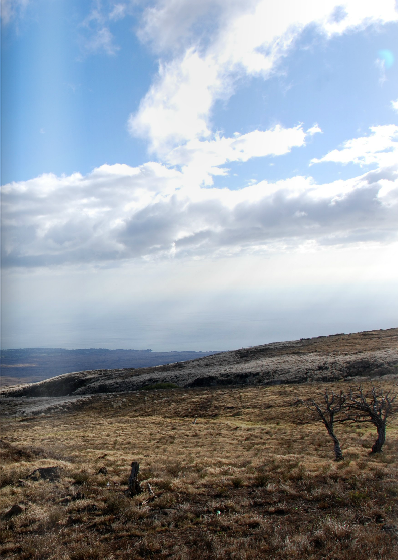 On the other side of Mauna Kea spreads a façade which seems much more austere, gloomy, stony, mineral, and widely marked by eruptions of Mauna Loa and Kilauea , even if this occidental slope is less subject to winds and has the most clement climate. This is also on this side that you'll find the most beautiful beaches of Big island surrounded by black basaltic rocks which contrast with turquoise-blue of a really very attractive water. With its weak slopes, Mauna Loa – long mountain in Hawaiian – is a piling up of basaltic slides, hardly higher than Mauna Kea, which cover half of the island's area. 
If its last great eruption dates back to 1996, the Kilauea, has ejected lava and melted rocks in 2011 and 2012, and gave an exceptional show for amateurs of thrills… More soberly, visitors can cross the Kīlauea Iki, former lake of solidified lava formed after an eruption in the 1950s, and safely discover open cracks, cataclysmic elevations, gas emanations and scoria. Or, they can follow the successive lava flows towards the ocean which, blocks roads and progressively redraw the island's contours at each new explosion. You never been to the Moon? So, be happy the landscape you see looks like the Moon's one! But unlike the moon, on these volcanoes, the aftermath of a devastating lava, life slowly reasserts itself, ferns, bushes, flowers, successfully and with perseverance, come back to life, making their way through a territory as inhospitable as fascinating …